Best Hotel for Mallorca Triathlon Training
Here at Hoposa, we pride ourselves on maintaining the premier triathlon-training hotel in Mallorca: SportHotel Villaconcha. When you consider the outstanding natural attributes our island offers triathletes with this singular establishment's comprehensive facilities and resources, it's really no surprise why both professional and amateur competitors seek out SportHotel Villaconcha!
Fresh on the heels of the Total Tri Mallorca International Triathlon, let's review what makes this specialty Hoposa hotel such a fantastic option for triathletes (and any sport-oriented visitor to the Balearic Islands).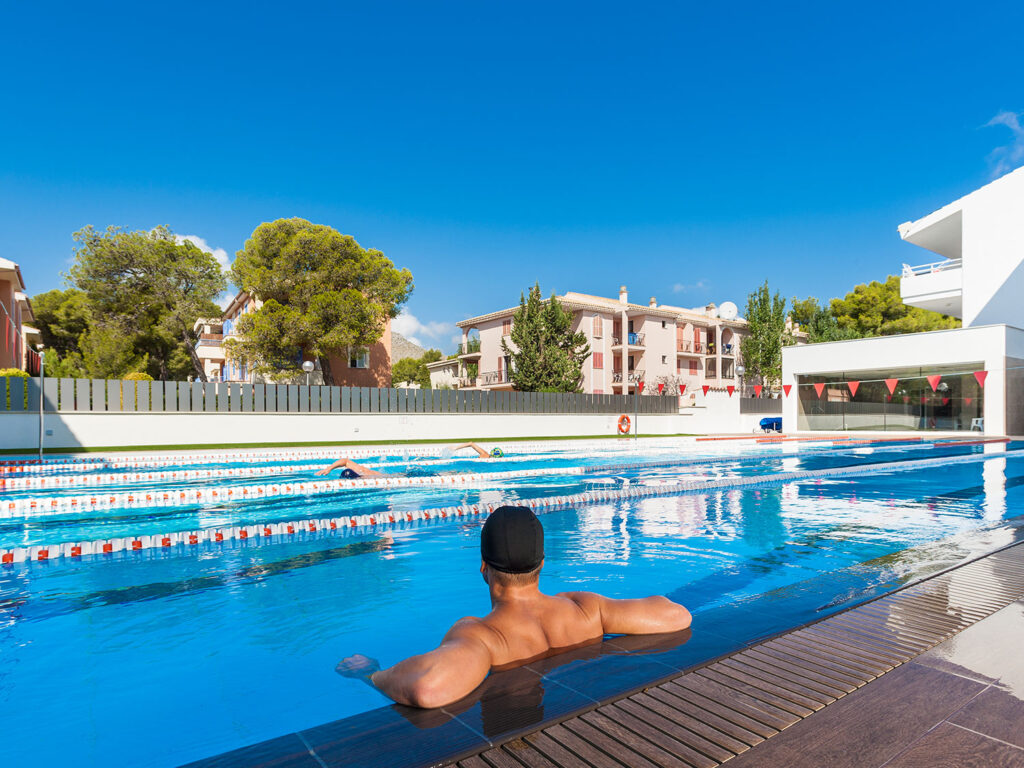 SPORTHOTEL VILLACONCHA: MADE FOR ATHLETES
From our 25m, six-lane heated swimming pool to the extensive running and cycling routes in our neighborhood, SportHotel Villaconcha provides an unparalleled base of operations for triathletes looking to hone their performance while also enjoying exceptional accommodations on Mallorca's Mediterranean coast in Puerto Pollensa.
Avail yourself of the strength-training and cardiovascular machinery in our state-of-the-art gym, the extensive bike garage and bike shop, and all of the other features that make SportHotel Villaconcha such a perfect choice for training for your next triathlon. If heights training is more your speed, you can immerse yourself in an altitude chamber thanks to Hypoxico. These chambers create the ideal workout environment for any athlete using state of the art air conditioning and filtering as well as applying equal air density and pressure to that of sea-level air.

FINE TUNE YOUR TRIATHLON PERFORMANCE AT SPORTHOTEL VILLACONCHA
Our appeal as Mallorca's triathlon hotel doesn't stop with the quality of our fitness facilities and proximity to running and cycling routes and swimming beaches. We also provide our visiting athletes with a formidable array of resources to actively evaluate and improve their performance.
Take, for example, the swimming analyses we offer. SportHotel Villaconcha's highly trained staff will help you identify weak points in your strokes through meticulous video documentation assessing them from front, back, side, and top-down vantages. And the one-on-one coaching available through our bespoke FluidSwim sessions provides further opportunities for boosting your form, speed, and endurance in the water.
We also offer similar analyses for the running component of your training.
TRAIN FOR TRIATHLONS WHILE ENJOYING THE UTMOST IN LUXURY PUERTO POLLENSA HOSPITALITY AT HOPOSA'S SPORTHOTEL VILLACONCHA
You won't find a better headquarters for prepping for a triathlon than SportHotel Villaconcha in Puerto Pollensa, where you can savor the one-of-a-kind combination of a cutting-edge, professional-grade athletic training experience and luxury accommodations within shouting distance of the Mediterranean. Take advantage of our heated pool, bike garage, fitness center, and other superb facilities as well as the fine-focused swimming and running analyses our staff provides, and revel in the easy access to roads, trails, and surf in our magnificent backyard—stretching from postcard-perfect beaches to the rugged terrain of the Serra de Tramuntana.
Come train with us here at SportHotel Villaconcha and soak up lavish Hoposa-brand hospitality while you do!