Best Waterfront Restaurants in Mallorca, Spain
There's nothing like settling into a fabulous gourmet meal or round of happy-hour drinks with a backdrop of the Mediterranean
On Mallorca, some of the best dining options fit that bill in magnificent style. Modern Mallorcan cuisine combines homegrown island cookery and influences from the Spanish mainland with stylings from all around the world, and it's an absolute joy to explore these flavors with "side dishes" of sea breeze and coastal vistas.
Let's review some of the best waterfront restaurants the island has to offer—all of them easy to enjoy from a perch at a Hoposa hotel or vacation apartment!
Ponderosa Beach (Playa de Muro)
This justifiably popular chiringuito (beach bar) offers an Asian-inflected Mediterranean menu committed to locally sourced ingredients—abiding by the "0km cuisine" concept. Paella makes one of the menu standouts. The wonderful beachfront atmosphere, meanwhile, comes accentuated by live music and DJ sessions.
7Fuegos (Santa Ponsa)
The "Mediterranean creative cuisine" at 7Fuegas draws heartily from Argentinian cookery as well as other influences. From gazpacho and garden-fresh produce to steak and seafood, you'll love the 7Fuegos fare—and the al fresco dining available out on the terrace.
Randemar (Puerto de Sóller)
Set in a historic oceanfront home, Randemar is a long-running, much-loved Puerto de Sóller restaurant that recently underwent a major revamping. Wood-fired pizza, hand-made pasta, fresh seafood, specialty homemade confections—the dishes are as winning as the setting.
Sumailla (Port d'Andratx)
The Japanese-Peruvian cuisine on offer at Sumailla reflects a historical story—the deep-rooted trend of Japanese immigration to Peru—and also the heavenly weaving-together of two of the world's great food traditions. From sushi to Andea potatoes, chef Mauricio Farinola's creations will have you swooning over your plate—as will the harbor-side terrace.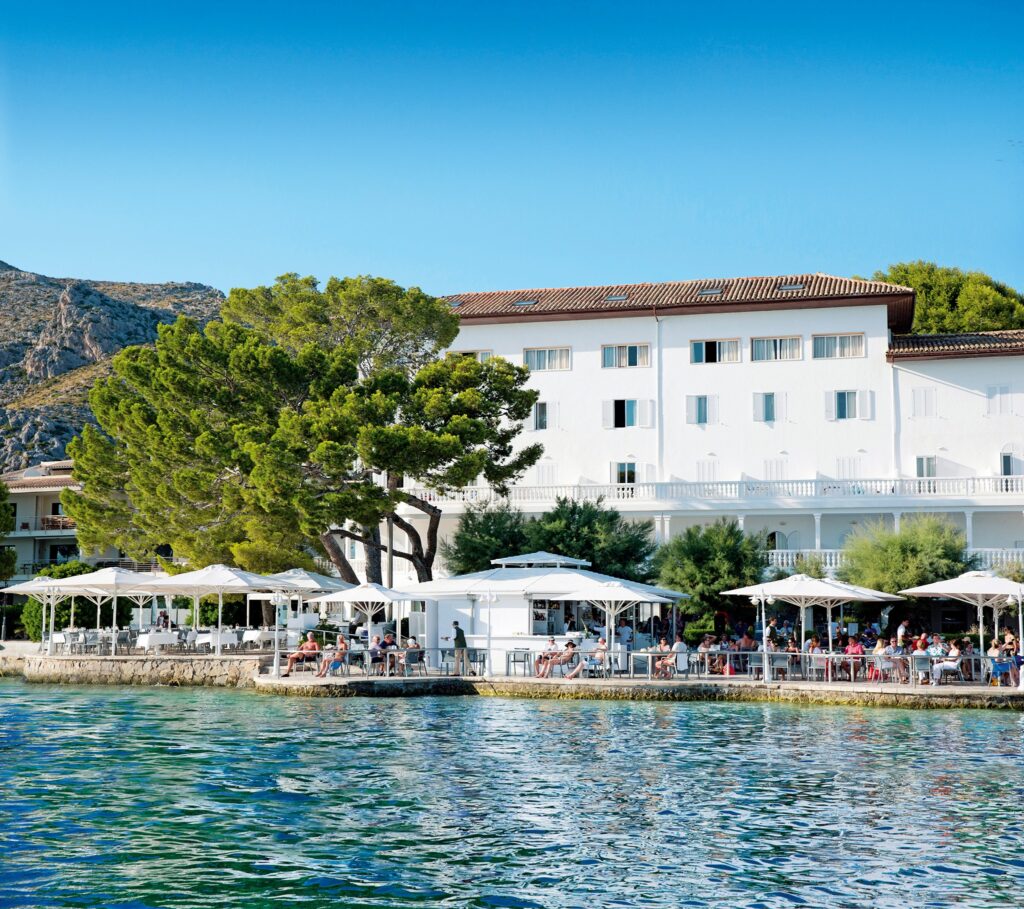 Top-class waterfront dining in Mallorca also awaits you at three of our very own Hoposa hotels. At Hoposa Hotel Costa D'Or in Deia on the west coast, you can treat yourself to a wonderful meal with front-row seats to a dreamy Mediterranean sunset. The Barques Bay beach, meanwhile, lies just a stone's throw from your terrace table at Hoposa Hotel Niu in Cala San Vicente, while Hoposa Hotel Bahia's beachfront restaurant terrace overlooks the Bay of Pollensa. The views are just as impressive as the wine lists…
Come indulge in the fresh, multicultural flavors of the Balearic Islands with seaside dining on Mallorca, with Hoposa Hotels your epicurean-friendly accommodations!