Cycling in Puerto Pollensa: Routes and Hotels for cyclists
Thinking of cycling in the Port of Pollensa? Well, we assure you that you are in the perfect article. We're going to talk about the cycling routes in the north of Mallorca that you can do and also about the best time of the year to do it, among many other things. Do you want to know more? Read on and let's get started!
Cycling routes in the port of Pollensa
Pollensa is located in the north of the beautiful island of Mallorca and is a place that leaves no one indifferent. It has incredible landscapes, a luxurious climate and beaches that will leave you open-mouthed. So that you can enjoy it to the full, we are going to tell you about the best routes you can do in this area.
From Puerto de Pollensa to the monastery of Lluc
This route is perfect for warming up and is suitable for all levels. The route takes you on the Ma-10 road to Pollensa and then you will have to pass small steep slopes until you reach Coll de Femenia. Once you get here, you will have to follow the straight road to Lluc. You will love this place, as it has a special magic.
    52 kilometres round trip.
From Puerto de Pollensa to Cap de Formentor
One of the routes with the most spectacular landscapes in Mallorca, but also one of those that require a little more than a normal walk. You will have to head north out of Pollensa, passing the Es Colomer viewpoint, until you reach Cap Formentor, the northernmost point of the island, which is known as the meeting point of the four winds (Tramuntana, European Alps, Atlantic Ocean and North Africa).
    32 kilometres round trip.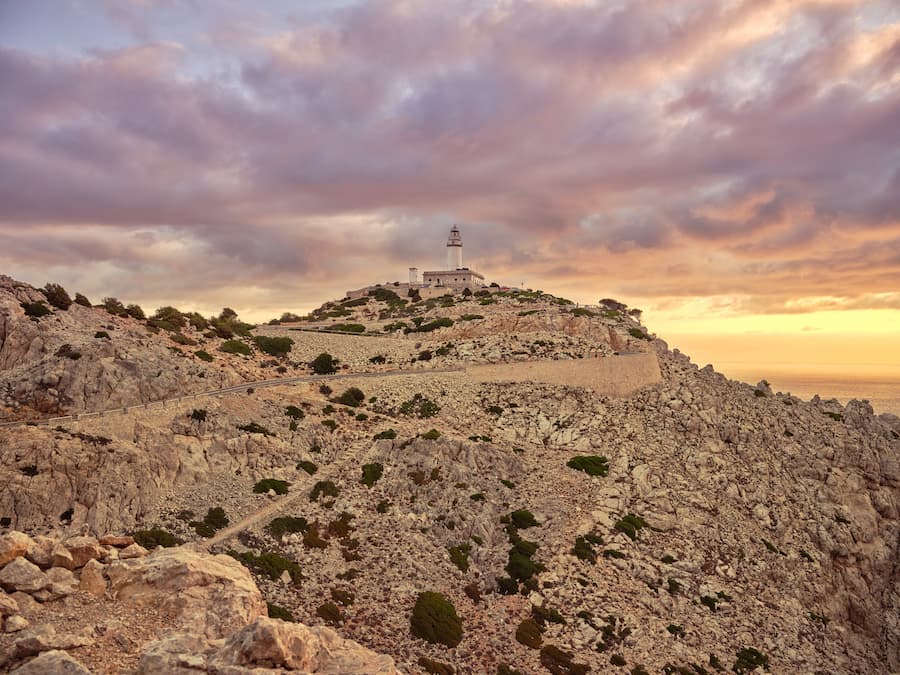 From Puerto de Pollensa to La Victoria
Fancy a short walk that you can do with the whole family? We bring you this simple and beautiful route in Mallorca. You will have to go to Alcudia and continue along the cycling road next to the sea. Then you'll have a few switchbacks and slopes that won't be too difficult to climb and a 13% gradient, which will be the most demanding of the day. The views on arrival are well worth the effort. There are also several bars and restaurants along the route where you can stop.
    25 kilometres round trip.
From Port d'Andratx to Port de Pollensa
If you want to do a route in which you can get to know some of the most impressive places in Mallorca, this is it. This is the longest route we are going to tell you about, but if you take it easy and use the whole day, you will manage to complete it. Bear in mind that it is not suitable for all levels, due to the demanding nature of some of the climbs.
You will be able to see impressive places such as the beautiful villages of Estellencs and Banyalbufar. You will also visit one of the most beautiful villages in the country: Valldemossa. Places like the reservoirs of Cúber and Gorg Blau will leave you with unforgettable memories in your mind. Without a doubt, a route to enjoy all the beauty that Mallorca has to offer to the full.
From Sa Calobra to Port de Pollensa
If you want to tackle the most demanding cycling route in Mallorca, you can't miss the Sa Calobra route. This time, you won't start at the port, but you will finish there. You will pass through Escoca and Lluc, to continue on to Pollensa and finally reach the port.
Why the difficulty? Because of the 26 bends, no more and no less, that you can see from Coll de Reis. We recommend that you take it easy and be very careful with cars, as it is quite a busy route. Your safety is important, so, especially on the descent, keep your senses alert.
50 kilometres route, one way.

Related sports to enjoy in Puerto Pollensa
In addition to cycling, the north of Mallorca and Puerto Pollensa is also perfect for other complementary sports, such as swimming or running.

In hotels in Puerto Pollensa specialising in this type of clientele, such as the Hoposa Villaconcha, you will find all the facilities and amenities for high-level sporting activities. In addition to open water swimming, you can make use of the semi-Olympic swimming pool, gym, spa and sports shop...

El garaje para bicicletas del Hotel Hoposa Villaconcha tiene espacio para albergar hasta 228 bicicletas, en una zona protegida con candados y videovigilancia 24h.
The best times for cycling in the north of Mallorca
Did you know that the island of Mallorca has, more or less, 300 days of sunshine a year? Actually, we could say that any time of the year is a good time to go cycling around the island. But there are two times of the year that might be of more interest to you.
In autumn and spring the temperatures are not as high as in summer and, for this reason, they are perhaps better for a sport such as cycling, as you will be able to make the most of the whole day. In winter, although it doesn't rain much, there is a slightly higher risk of precipitation. Also, bear in mind that you may be able to find better deals on flights or ferries at this time of year.
The climate in the area
In the north of the island, the climate couldn't be better. The maximum temperature does not usually exceed 30 ºC and the minimum in winter does not drop below 7 ºC. This is the best area for practising your favourite sport.
Stay in a cycling hotel in Pollensa
Which accommodation should you choose for your cycling season? We have it clear. We have all the comforts that our sportsmen and women need. You won't have to worry about where to leave your bike and even, if you want to rent it, we will take care of everything. Choose our hotel for cyclists in Pollensa, because we want you to enjoy our island.
Now you know the cycling routes in Puerto de Pollensa that you can't miss. Which one will be the one you like the most?