Excursions from Puerto Pollensa What to visit?
Puerto de Pollensa is an extraordinary place to enjoy alone, as a couple, with friends or with the family. Gastronomy with delicious samples of the region, as well as culture with visits to emblematic places during the day. On the other hand, the nightlife is ideal to get lost in, along with activities and water sports, such as diving, paddle surfing or kayaking. Additionally, the excursions around Pollensa make this place a holiday paradise where you will find everything for everyone.
En este artículo hablaremos de varias excursiones que podemos hacer por el puerto de Pollensa en familia, en pareja o con amigos. ¿Te apuntas? ¡Sigue leyendo!
Excursions in Pollensa
If you like walking, you don't have much experience and you want to spend a fun and relaxed time with your family or just in company, in Pollensa there are many options for you.
Cala Bóquer
It is a hike with a low level of difficulty, but it can be a bit long if you are travelling with children. You don't need to be very experienced because the terrain is relatively easy. You will walk a total of 5 kilometres there and back, and there is only a small stretch that involves some difficulty, although very little. It will take you about two hours.
The objective is to reach Cala Bóquer, an unspoilt cove between Sierra de Albercutx and Punta de na Torreta. It is one of the most beautiful natural spots in Mallorca and it is essential that you make the excursion in summer or spring to be able to immerse yourself in the crystal-clear waters of the cove. You can find out all the details about the excursion from Pollensa to Cala Bóquer in our Blog.
Ses Fonts Ufanes
Also of a simple level, it is suitable for the whole family. Sens Fonts Ufanes consists of a group of natural springs that are derived from the autumn or winter rains. When the aquifer absorbs a lot of water, more than it can hold, it overflows and makes its way to the surface. It is, quite simply, spectacular.
Ses Fonts Ufanes is about two hours by car from the port of Pollensa. There, a good walk and you can get to know these places, which, from November to March, will be full of people. The intensity with which the water comes out of the earth's interior fills the visits with camera flashes.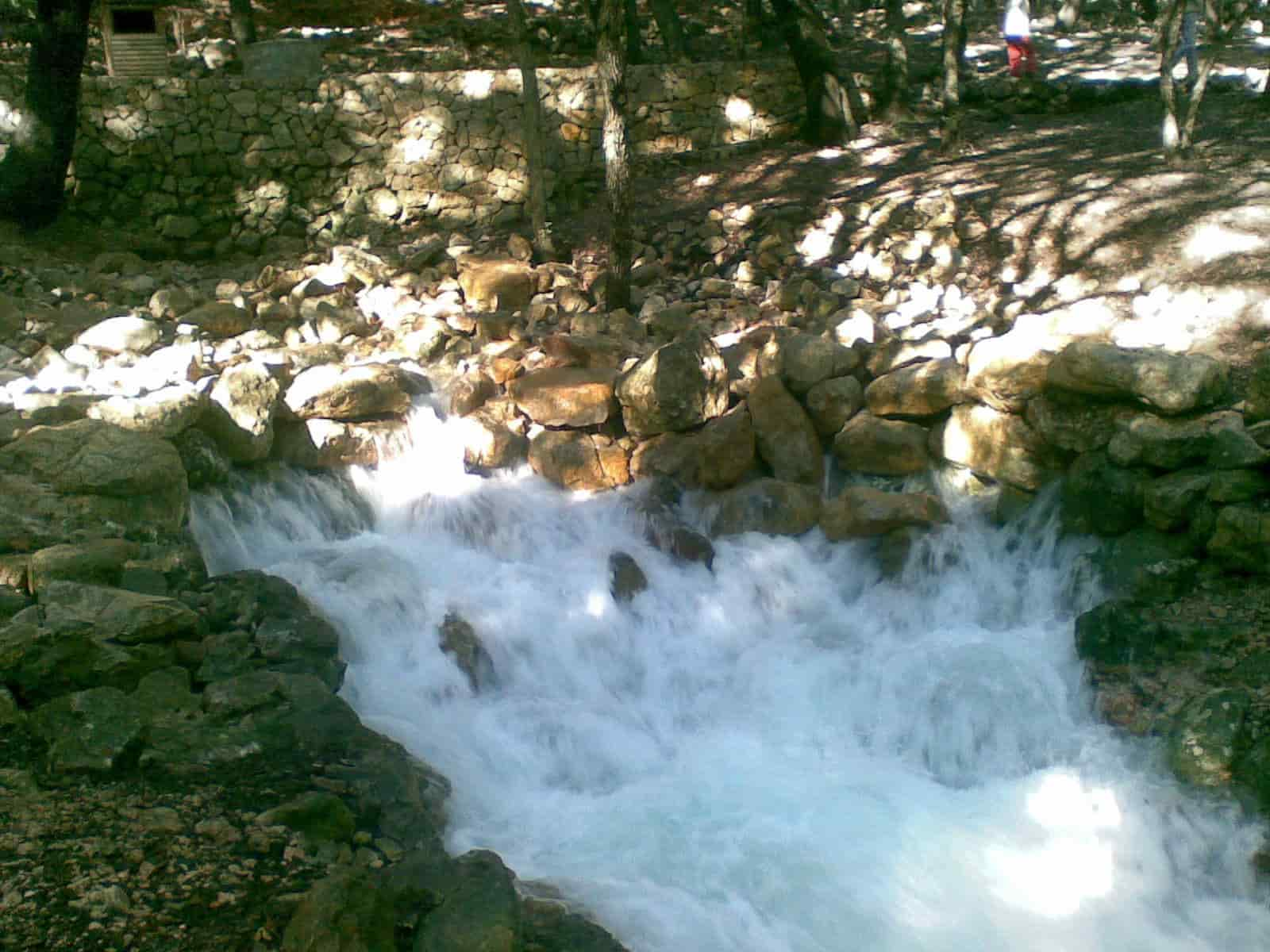 Cala San Vicente
Another excursion suitable for the whole family in the north of Mallorca is the Camí de Coves Blanques or Camí dels presos, as it is known on the island from Cala San Vicente. The route can be extended between the spectacular mountains of the area to Cala Estremer, although it all depends on how much you want to do it and how tired you are.
You can go from our hotels in Puerto de Pollensa by car to Cala San Vicente or from our Hotel Niu in Cala San Vicente. It is very close. From there, you can swim before starting the route in the cove, which is located in the Tramuntana mountain range.
Now on the route, we will start by seeing a monolith that Pollensa Town Hall made in 2005 to honour the memory of the Republican prisoners of the Civil War. At the end of the path, after about 30 minutes of walking, we can continue climbing a little further to enjoy the incredible views.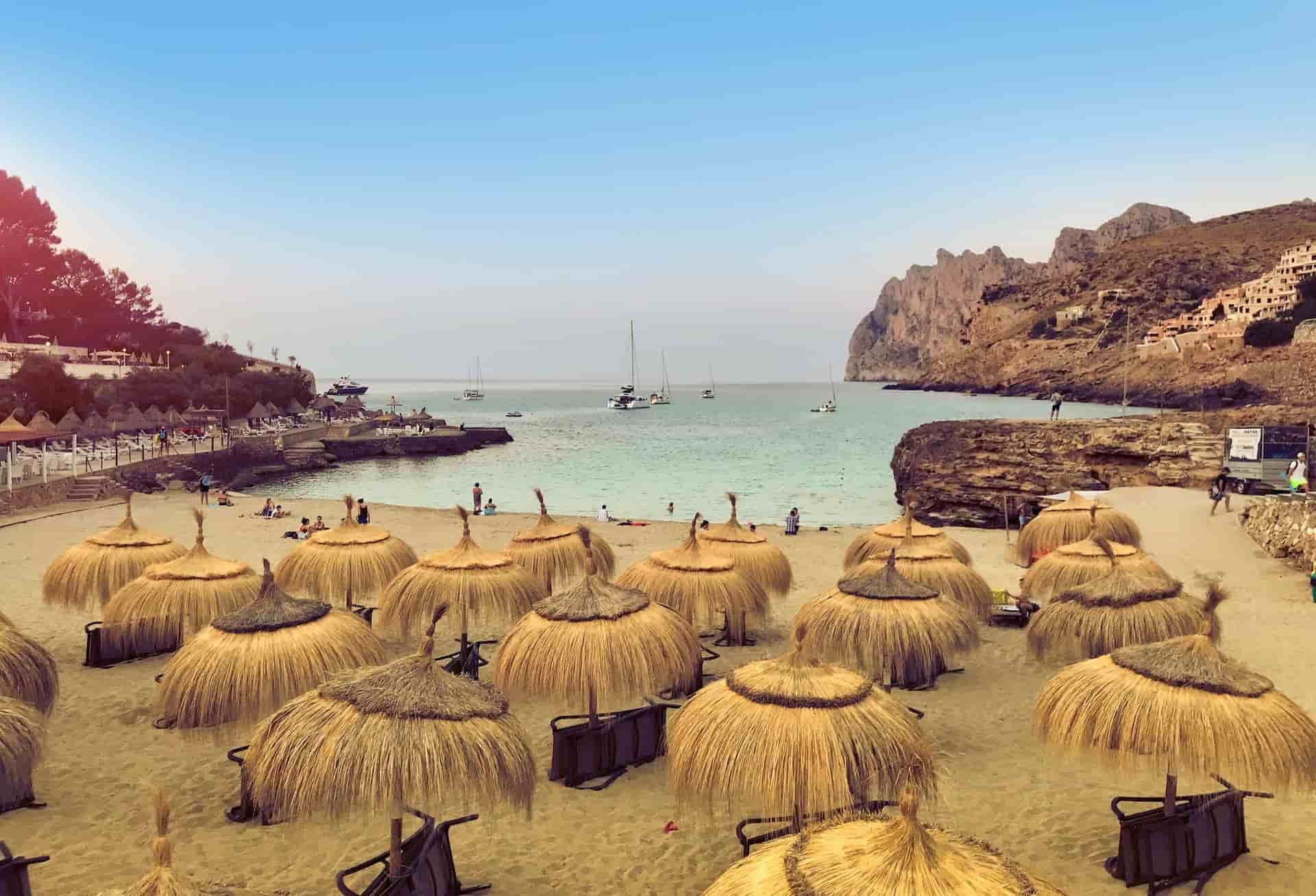 Puig de Maria Sanctuary
A simple excursion for the whole family with a lot of history and views that are well worth the effort and time. Puig de Maria is in the north of the island. On this peak there is a sanctuary, whose origin dates back to the 14th century, a date that coincides with the arrival of the Black Death on the island. This sanctuary was built as a method of divinely protecting the population.
The hike takes place on an asphalt road and a final stretch on a cobbled road. It will take about 50 minutes at most. As you ascend, the views become even more spectacular. Once at the top, you can enter and enjoy the view inside the monastery, which does not function as a monastery, but as a refuge. It is even possible to stay overnight. Without a doubt, an experience for young and old alike.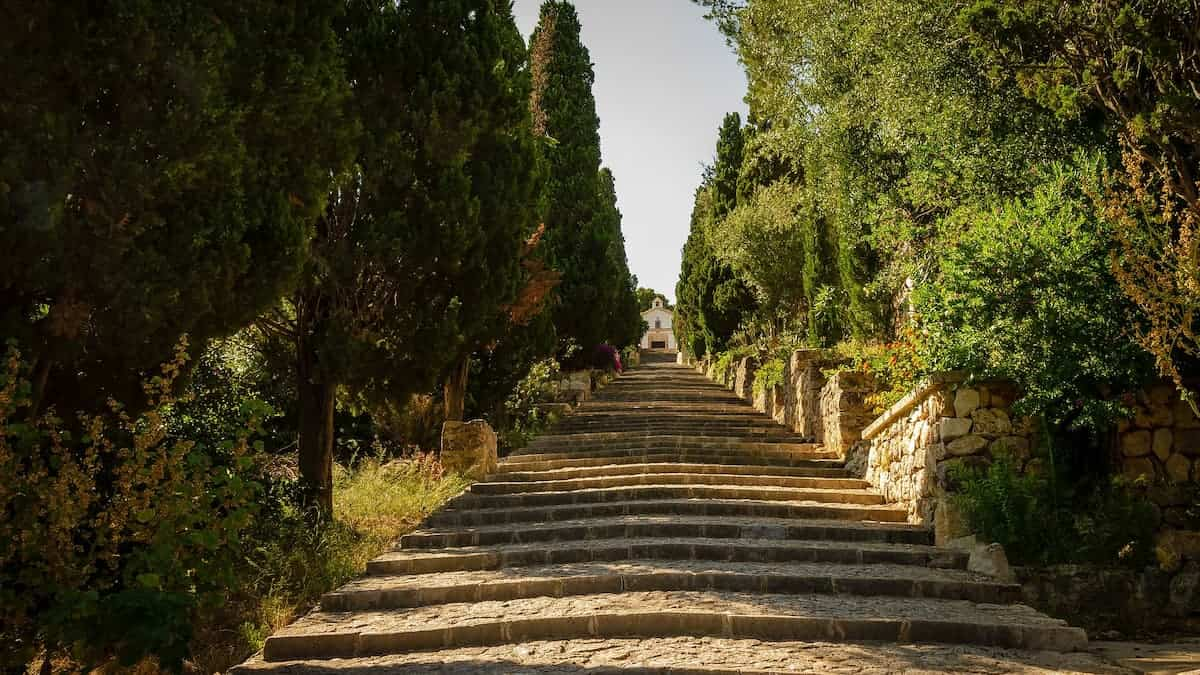 Pollensa Village
If walking in the mountains is not your thing, you can also take a trip to the picturesque village of Pollensa, a gem in the north of Mallorca.
During your walk, you can visit numerous places of cultural interest, such as the Plaza Mayor. It is, without a doubt, the nerve centre of the town and an ideal place to share incredible moments with the family. On Sundays you can visit the open market which is held there and which extends to several neighbouring streets. You will find all kinds of products, such as vegetables, fruits, etc. The Mare de Déu dels Angels church is also worth a visit.
Other places of interest are the steps up to El Calvario, one of the most iconic places in the town; the Casa Museo Dionis Bennassar, with exhibitions by local artists; the Convent of Santo Domingo or the Roman bridge, among others.
If you are going on a quick visit or a somewhat extended tour, excursions around Pollensa are an ideal way to get to know the area and enjoy it. Alone, as a couple, with friends or family, going on a walking route to get to know more of the area will be an incredible experience that you must live.