Excursion to Cala Boquer in Puerto Pollensa: Route for the whole family
One of the advantages of Puerto de Pollensa being next to the Serra de Tramuntana, is that as well as enjoying the best calas and beaches of the Mediterranean, you can also go on excursions of great scenic beauty.
In today's post we are going to give you all the keys to enjoy the excursion that starts in Puerto de Pollensa and ends in the nearby Cala Bóquer. A perfect route to enjoy with the whole family as it is not very long and does not have parts that are too steep.
Furthermore, the excursion ends in a virgin cove where you can swim and enjoy the unspoilt coastline of the north of Mallorca.
Route summary to Cala Boquer
The route starts in the northern part of Puerto de Pollensa, just five minutes from hotels such as the Illa d'Or. There is a parking where you can leave your car, just 250 meters from the start of the walk.
You have to take into account that this excursion to Cala Bóquer runs through a private property, but access to the cove is allowed without any problem. It is very important to respect it and to take the following measures so that we can all continue to enjoy this beautiful excursion:
At the start of the hike you will find a barrier. Remember to leave it closed as there may be loose animals that could escape.
Overnight stays are not allowed in Cala Boquer, so you must return before nightfall.
Take back everything you bring with you. The Serra de Tramuntana is a UNESCO World Heritage Site, so conservation is very important. Don't leave any rubbish and if you find any, it never hurts to pick it up.
By respecting these simple indications we will be able to continue enjoying this virgin cove for many more years to come.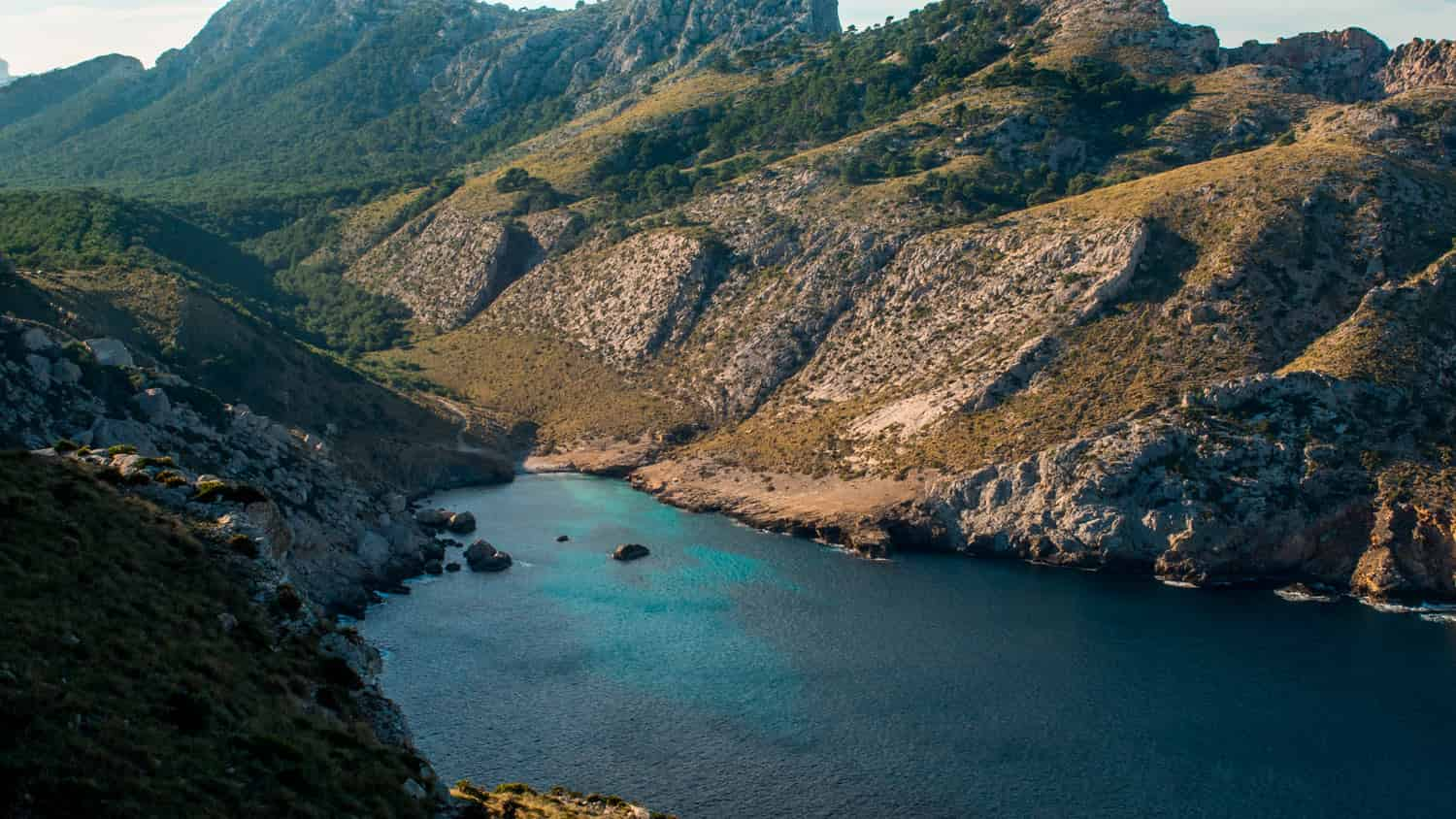 View of Cala Boquer from a drone over the sea
Get ready for the excursion
As it is a simple and not very technical excursion, it is not necessary to prepare a lot of things to enjoy it, but in any case, this is the basic preparation we recommend:
Sportswear and equipment
Although it is not necessary to wear hiking boots, you will need suitable footwear to enjoy the route to Cala Bóquer. Light boots or trainers with good soles are the right thing to wear.
As for the recommended clothing, the path is well marked and you don't have to go through the countryside, so you can wear shorts without any problem.
It is also advisable to bring swimming costumes for the whole family as at the end of the route, you can enjoy a swim in the cove.
Other material to take with you
On the excursion and in Cala Bóquer you won't find any water fountains, so it is important that you bring enough water for the whole family.
If you are going to do the hike in the afternoon, although it is not very long, we recommend that you take a torch. The path is very easy to follow but if it gets dark, there is no artificial lighting in the Boquer Valley.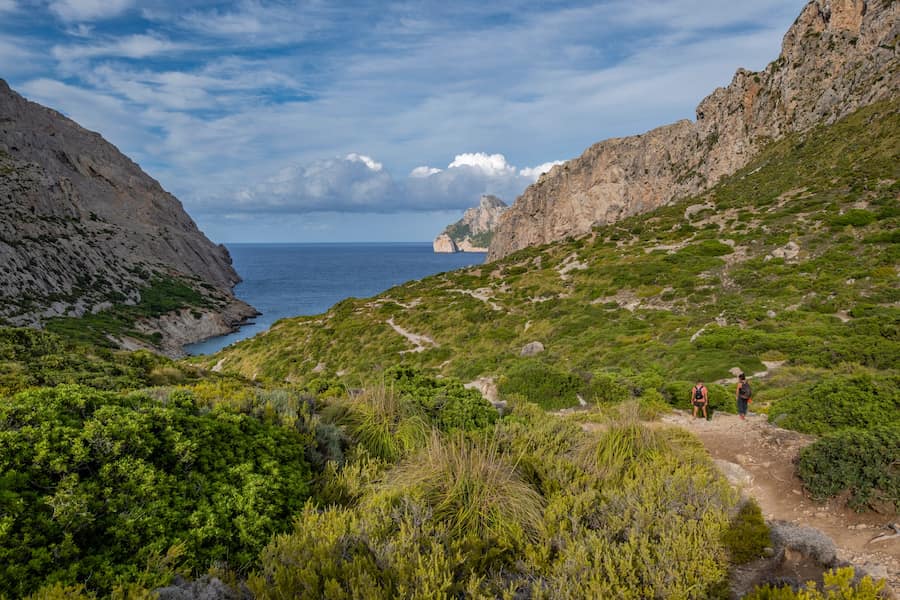 The path to Cala Boquer is easy to follow. Perfect to go with the family.
The Excursion from Pollensa to Cala Boquer step by step
Now that you are ready to go on this short but beautiful excursion, let's show you how to get to this unspoilt cove in the north of the Serra de Tramuntana.
The start of the excursion is at the so-called "Casas de Bóquer". This is an old, private estate to which most of the valley of the same name belongs.
Just 200 metres from the start of the excursion there is a large car park where you can leave your car if that is how you are going to get there. If you stay at one of the nearby hotels, such as the Illa d'Or or the Hoposa Daina, you can easily walk there in less than 20 minutes.
The excursion from Puerto de Pollensa to Cala Bóquer is approximately 2 km long (4 km in total round trip) and we have put together a small map so that you can see the key points and the whole route:
The start of the excursion
As we have already mentioned, the start of the excursion is at the "Cases de Bóquer", in the northern part of Puerto de Pollensa. Access is free but remember to leave the barrier closed when passing
From here we will advance along a dirt track and lose very easy and clear to follow. The path is not very steep and you will see that at some points, it splits into several possible options.
Getting there is very easy and they all end at Cala Boquer. In case you get off the main path, it is very easy to recover it and return to the route to the cove. If you are not used to doing this type of mountain routes, it may be a good idea to carry a mobile phone with the maps of the area downloaded. This way you will be able to see where you are at all times and how far it is to the cove.
Arrival at Cala Boquer
After the two kilometres along a marked path, you will reach Cala Boquer. A completely unspoilt and natural pebble beach where you can swim
Wild goats are commonly found by the sea and are not usually dangerous. They are accustomed to visitors and may come to look for food.
In Cala Boquer there are usually no strong sea currents, so it is perfect for swimming with the youngest members of the family.
Remember to pick up everything you have taken with you before heading back to Puerto Pollensa.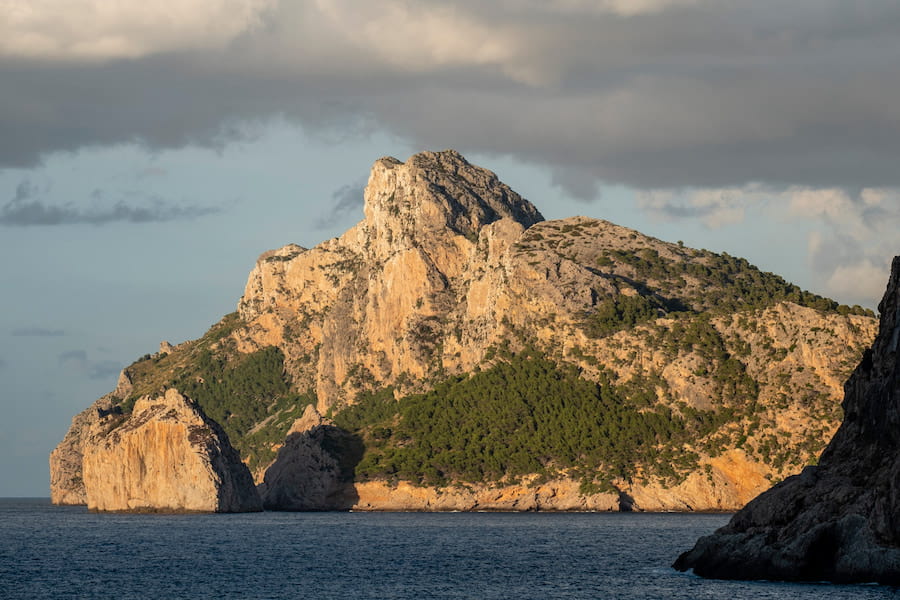 View from Cala Boquer towards Es Colomer
The way back from Boquer to Pollensa
The return route from Cala Bóquer to Pollensa is the same as the initial route. At the beginning it will be a bit steep, but after that it is a smooth and easy route.
Reserve enough time to return without it getting dark.
We hope you enjoy this beautiful excursion, perfect for the whole family. If you have any questions about how to get there or anything else, remember that our staff is always at your disposal, we will be happy to help you in any way we can!